LHS Class of 1972 Communications and Technology Investment Fund
One of many things the reunion committee has learned over the past 50 years is the need for continual connections and maintenance of classmates' status: change of address, email addresses, comings and goings.
Today, web-based tools make this much easier than ever, but these web tools require annual investments to remain viable.
This fund seeks enough resources to cover these ongoing costs for the next five years. These costs are estimated to be approximately $5,000 in total (between $800-$1000 per year).
Some of these ongoing expenses include:
| | |
| --- | --- |
| ONGOING EXPENSES | COSTS PER YEAR (est) |
| Website Hosting | $140 |
| Website Refresh/Updates | $600 |
| Domain Registration | $20 |
| Ancestry.com Subscription (classmate research) | $240 |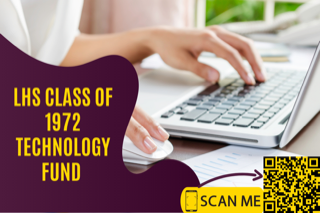 $3,026 received towards the $5,000 Contribution Goal
$3,026 received towards the $5,000 Contribution Goal
Ongoing benefits:
Timely maintenance of classmate contact data for ongoing communication
Memorial list updates and tributes
Reunion pictures
Lakewood Schools historical information
Memorabilia submitted by classmates
The 50th reunion ticket price sought to be as low as possible to encourage attendance. The budget for this reunion does not anticipate any excess funds to provide for these future investments.
Any excess funds will be either donated to the Lakewood Education Fund or used to extend this work beyond five years.